Celebrating My Fabbies Award Nomination!
Yes, just nomination... The Fabbies are the first ever set of awards that will be given to outstanding Fashion Bloggers – The winners will be announced in almost six months from now, but I have to say that the visits that my site gets and the emails that I get every day, make ME feel like a winner already!!! :DDD (Posted 3/18 @ 9 PM)
Enjoy these captioned pictures and then a short video of me talking about the site!
WAIT HOLD ON, I THINK THIS IS ME HOLDING A WINEGLASS, BUT I'M NOT SURE LEMME CHECK OK YA THATS ME ALL RIGHT NICE JOB 2 WHOEVER TOOK THIS PICTURE THANKS FROM TODD
Looks like a rookie Wall Street stockbroker ready to capitalize on a bunch of well-chosen investments. A transcript of what I was saying at the time: "Constant proportion portfolio insurance is a capital guarantee derivative security that embeds a dynamic trading strategy in order to provide participation to the performance of a certain underlying (and you know what an underlying is, right?). In order to be able to guarantee the capital invested, the option writer (or option seller) needs to buy a zero coupon bond and use the proceeds to get the exposure he wants. Speaking of exposure, are you going to take the picture or what? I'm trying to explain something here. [Picture taken.] Thanks."
Now allow me to flex my journalistic muscles as a fashion blahhhh...er...uh yeah.
Yes, this is me and one of my good friends. And here she is looking positively Cinderellian, posing for a crowd of crazed paparazzi, wearing a one-of-a-kind three-layered full-length organza dress in hyacinth blue with shades of cyan and cerulean overtones, elegantly decorated with intricate cascading beadwork from décolletage all the way down to the carefully stitched hem. And as for me, I wear a navy blue pinstriped suit from Dolce & Gabbana. (Every. Single. Day.) Even though I'm just a humble webmaster, my "work uniform" nevertheless has to be direct from an atelier in Milan. (Just fulfilling the sartorial quotient of my self-written contract.)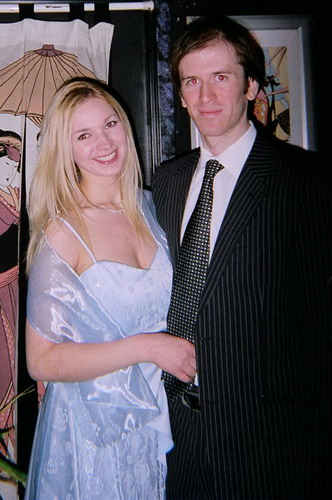 She went for the Japanese wall-hanging; I went for the Kandinsky-esque framed print.
There they are: The Prom Queen and her boyfriend, the Prom King / Class President / Valedictorian, who was also voted Most Likely to Become a Nobel Prize-Winning Millionaire.
Okay, that was her caption for the picture...now for my (probably more realistic) one: "There they are:
The Hyperambitious Overachieving Narcissistic Egomaniac and...her Polite and Self-Effacing Boyfriend."
The blog precedes the name, in much the same way that the reputation precedes any actual accomplishments.
"I never was but an isolated bon vivant, which is absurd; or a mystic bon vivant, which is an impossible thing."
Nunca fui mais que um boémio isolado, o que é um absurdo;
ou um boémio místico, o que é uma coisa impossível.
-Fernando Pessoa, 20th C Portuguese poet
TOP SELLER: Yeah, I sold three Pontiacs and a Subaru this week, whatcha gawna do about it? (oh god, stfu asap)
Putting the mouth back in...vermouth?
I may be looking at YOU, but I am actually arranging my next gallery in my mind...
Yes, a true romantic.
(What can I say, cyber-curatorship is an addiction--just as scholarship is an addiction...and I suppose the question here is really
: Ca
n someone's addiction to learning actually be self-destructive?!
Nah......)
(Say it outloud->) Tellllll me what's ON your MIND! I wanna KNOW....
The Fashioniste – "Etymologizing the Language of Fashion."
Her? – "Etymologizing the Appetizer of Edamame."
"MY boyfriend sold four cars this week! Eeee!"
(Yo, I thought I was a strockbroker, WTF?)
Wish they all could be California rollssssss....... XD
This is the face every girl makes when I reiterate how difficult it is to analyze the differentiation between the experience of beauty as a metaphysical, ontological, and a value-theoretical phenomenon. Hhhhholy sh|t,
hey, y'know what? Ya better have another drink before we go. :-|
:D All smiles!!! :D
And I would just like to say, to all of you--
And now for my interview!! (I tried to embed the video but it didn't play on some browsers, so here--)
Notes:
YES, the freeze-frame is terribly sinister,
YES, they left off the "e" at the end of my website's name,
YES, the microphone, as everyone says, makes my voice sound completely different than it does in reality,
And OF COURSE they cut off the interview right before the interviewer calls me a genius (J/K, actually not).
Click this link and then PRESS PLAY for an affable and light-heartedly ironic description of the site! :D >
Post-interview wrap-up: I actually said much more about the site and what I want to do with it, but I see the unexpected shortening of the interview as a blessing in disguise in that I WOULD like to perhaps say some more things about my site on video in my own self-authorized way and format. I also have had many people ask if I've already done that, or telling me I should try it, so I'll soon try to do just that--I actually bought a digital camera a lonnnnnng-ass time ago, but the above pictures were all taken with a disposable camera purchased five seconds before we left my apartamente (Yes, I sell disposable cameras out of my apartment...JUST KIDDING).