~ "Automatic Translations" of *6* Fashion Superstars! ~
Yet Another Remarkable Advancement brought about by Web Technology!
(These 3 pictures: Claudia Schiffer in the early 1990s, then Brazilian models Alessandra Ambrosio and Gisele Bünchen using their laptops, probably seeing which pictures of them I chose for this humdinger of a whozeewatsit website, and then we have a model from the December '79 issue of US Vogue, seemingly frustrated that she can't adequately understand some great work of literature in its original language because she doesn't have anything that to quickly and effectively help her out! Well, now we don't have worry about that problem as much anymore...)
Intro – Something that might surprise you is that I, ~The Fashioniste~, spend much of my time as an English teacher--both as a teacher of literature, but also as a teacher of English as a Second Language, which I enjoy quite a bit more. I have helped individuals from over 100 different countries learn English and improve their power of self-expression, and so this week I apply this interest of mine to some of the best interviews of designers and models that I have been able to find! :-D

Now, one of the most truly awesome advancements created by the Web, and by Google in particular, is the ability to do instantaneous, automatic language-to-language translations not only of sentences, or of paragraphs, but of whole websites if you please, from one page to the next. Thanks to this technology, "people can see what other people are writing in languages that they don't speak" (1). As of June 2007, Google exists in 112 languages (5 of which are merely fanciful), and CEO Eric Schmidt has pointed out that many people are not aware that there are actually 4 official languages that are spoken in Spain, and 14 in India (the number is often overestimated, though there are many other languages spoken by smaller groups). Google has already undertaken the digitization of books in 90 languages, and as he has noted "People have a lot to say, markets are viral [which means] information spreads through communities [and] back and forth" (2). In one particular talk, he reads off a list of things we can expect from the ever-expanding and accelerating interconnected world we live in, and one of those things was not described merely as "Automatic translations between languages," but "Automatic translations between CULTURES" (3). This is brilliant, and language, I and most linguists believe, is inseparable from cognition, or from thought.
References: (These are all talks by the Google CEO) -
(1). Eric Schmidt Interview with Condé Nast's Portfolio - June 15, 2006
http://youtube.com/watch?v=zk94TvDI9WA
(2). ~ at Google Press Day Paris - June 19, 2007
http://youtube.com/watch?v=lMgQGBl0T-A
(3). ~ at the National Venture Capital Association - April 26, 2006
http://www.youtube.com/watch?v=cl8bEApvblg
~ A Note about the "Coutureanly" Stringent Standards of Accurate Translation ~

- One important part of translating is to avoid being too literal--to avoid doing a word-for-word translation, as the grammar and the idioms (expressions that consist of more than one word, like "Don't mention it" or "No big deal" or "Make it work") differ significantly between English and all other languages, as English has evolved from so many different languages, and so diversely. But there is also the issue of cognates, which are words that are similar in two different languages, but there are many false cognates, like how the French word "robe" actually means "dress," or how the English word "chapeau" denotes a specific kind of two-cornered hat, while the French word "chapeau," in French, means "hat" in general--and the list goes on. And then there are false cognates with idioms: for example, I quote Galliano saying he prefers one to dress with bad taste rather than "l'absence totale" of taste, which a lazy translator might render as a "total absence," when native English speakers would be more likely to say "complete absence," and a Google search on these two phrases shows "complete" as being used 100,000 more times on the Web than "total." And lastly, there are words that have opposing meanings, depending on the context (These are known as antagonyms and here's a list of 'em you can bookmark). And I think I may have encountered one such example, when runway knockout Doutzen Kroes of the Netherlands referred to her fellow models "showt de meest geweldige stukken," which Google translates as "showcasing the most amazing pieces," while Altavista translates the word "geweldige" as "terrible"! The same dual meaning was also found in the English word "awful" (meaning either "amazing" OR "terrible") until the past century. ... Translation can never possibly be fully automated ("If language were based on mathematics and not on poetry, there would only be one language." -paraphrase of some philosopher), and so, rather than defeat my purpose by rendering these excerpts in awkward or broken English--how stupid would that be--I have sought to make the minimal amount of adjustments for each of these translations so as to make each excerpt sound like the English that I hear and read and speak every day!
And heeeere ya go! :-D!!! >>>
And to prove just HOW remarkable this advancement really is, I here present you with a exquisite arrangement of selections from various fashion-magazine interviews!!
Translating…
Gisele Bündchen
from
Portuguese
Doutzen Kroes
from
Dutch
Karl Lagerfeld
from
Spanish
(ja)
Claudia Schiffer
from
German
John Galliano
from
French
and
Carine Roitfeld
in
English
(oui)
And now...
~ Proving that Beauty & Genius **REALLY ARE**

Two Sides of the Same Coin! ~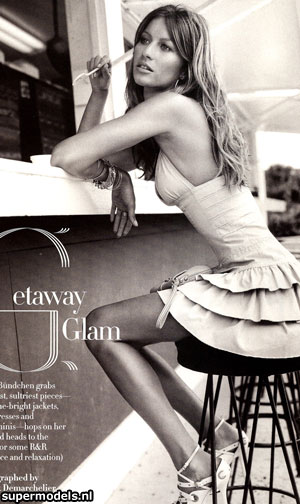 Gisele Bündchen
(Photo from a photo-editorial from Harper's Bazaar; Supermodels.nl)
Gisele Bündchen: Literature is a gift. What you take away books, you're nowhere.

Fashion Rio: Have you ever tried therapy?
Gisele: Never. My books are my therapy. Every time I need a light in my life, I read a book. A friend gives me one, or I think of getting one when I'm walking in the airport. And when I like the message, it looks just like what I do (shows a book): the most important parts are emphasized in my mind again and again, forever. Look at this, look (she reads an underlined excerpt): "The greatest gift that you can give to another is their own happiness (...) it is really who you are and where you are in the state of connection, any and all of you is wishing the object of your attention is enjoying him- or herself." Is that not beautiful? "Me" is a force so great, you know? I believe that people come here to learn and we are all spirits, energy. These books that I read only reaffirm that. Because from time to time, you will live life, will remain busy, crazy, and your mind is preoccupied, you know? And you lose your essence. These books give me a direction. A major force.
Gisele Bündchen: A literatura é um presente. O que tu tira dos livros, não está em lugar nenhum.
Moda Terra: Você já fez análise?
Gisele: Nunca fiz. Meus livros são a minha terapia. Cada vez que preciso de uma luz na minha vida, me aparece um livro. Uma amiga me dá, ou eu acho, passeando no aeroporto. E quando eu gosto da mensagem, olha só como é que eu faço (mostra o livro): sublinho as partes mais importantes, para reler sempre. Olha isso, olha (Gisele lê um trecho sublinhado): "O maior presente que você pode dar ao outro é a sua própria felicidade (...) que é verdadeiramente quem você é e quando você está no estado de conexão, qualquer coisa e qualquer um que você está desejando como objeto de atenção beneficia-se disso". Não é lindo isso? Me dá uma força tão grande, sabe? Acredito que a gente vem para cá para aprender e somos todos espíritos, energia. Esses livros que leio só reafirmam isso. Porque de vez em quando, tu vai viver a vida, vai ficando ocupada, louca e tua cabeça fica ocupada, né? E tu perde tua essência. Esses livros me dão uma direção. Uma força maior.
Fashion Rio - January 20, 2007
In English:
Google Translation (IT DOES TAKE A MOMENT TO LOAD... YA MIGHT WANNA WAIT TILL YA SEE THE REST...) Google's Translation Page - Many awesome functions and features



| | |
| --- | --- |
| | |
Doutzen Kroes

(backstage at DSquared, Spring '07, and then at Dolce & Gabbana, Spring '06; Style.com)

"I am a perfectionist, I want to be the best. I work hard, and it makes me feel good and gives me self-respect. There is a lot of competition, and I want be better than the others. That sounds easier than it is. On Saturday I came from New York, that same day, with enormous jetlag, I stood lively and fresh for the camera. It makes no difference to anybody that you're tired. It seems as if I lead a superglamorous life. That's because people only see that part of your work. They see the beautiful layouts in the magazines, or see me on the red carpet, like at the last CFDA awards, as Model of the Year. But after the shows I am really exhausted. I do 35 shows per season. You are assigned first to have 'fittings,' then you must be with the designers for as long as it takes them to make sure everything fits. I sit with everyone and hang out, and then at night I have to go in for yet another fitting. Then I sure hear a whole lot. And then on the day of the shows themselves you have to go in very early for make-up. How do I get through the week? I know that it comes to an end. It is consuming, but a lot of fun, the atmosphere among the models, showcasing the most amazing pieces, and when I hear the music before I go on, shrieks of adrenaline take me over."


"Ik ben een perfectionist, wil de beste zijn. Werk ik hard, dan geeft me dat een goed gevoel, respect voor mezelf. Er is zo veel concurrentie, en ik wil beter zijn dan de anderen. Dat klinkt makkelijker dan het is. Zaterdag kwam ik uit New York, diezelfde dag stond ik met een enorme jetlag vrolijk en fris voor de camera. Het kan niemand schelen dat je moe bent. Het lijkt alsof ik een superglamoureus leven leid. Dat komt omdat mensen alleen dat deel van je werk zien. Ze zien de mooie fotoreportages in de glossies, of zien me op de rode loper, zoals laatst bij de CFDA awards, hét modegala van het jaar. Maar na de shows ben ik echt bekaf. Per seizoen loop ik er 35. Dagen ervoor heb je nog 'fittings', dan moet je bij de ontwerpers langs om de kleren te passen. Zit iedereen gezellig te eten, dan moet ik 's avonds nog naar een fitting. Dan baal ik wel, hoor. En dan op de dag van de shows zelf zit je in alle vroegte in de make-up. Hoe ik zo een week volhoud? Ik weet dat er een einde aan komt. Het is slopend, maar erg leuk, de sfeer onder de modellen, je showt de meest geweldige stukken, en als ik dan voordat ik op moet de muziek hoor, giert de adrenaline door mijn lijf."
8-Jul-2006
Doutzen kroes Dutch largest model ever
MADE IN FRYSLÂN
Made in Freisland - July 8, 2006
In English (though I also used Google and other sites as well):
Altavista Translation
Altavista's "BabelFish" Translation Site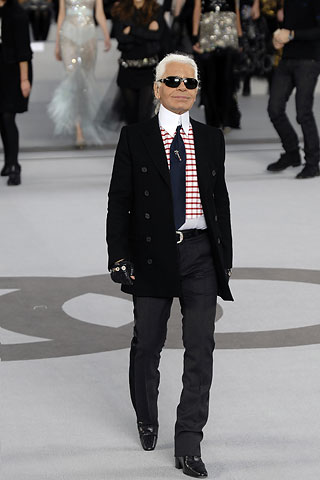 Karl Lagerfeld

(Photo from the end of Chanel Haute Couture, Spring 2007; Style.com)

Karl Lagerfeld: In my opinion, an haute couture collection must be an exercise in fantasy. The lessons of morality or of elegance are unnecessary. Haute couture is, above all, the height of luxury; whatever else remains is sufficient to "prêt-a-porter" luxury. If it is not really unique, it has no reason to be.
…
Hola Magazine: Is haute couture a dream come true?
Lagerfeld: Haute couture is synonymous with having free rein to use anything, from the most expensive fabrics to the most elaborate knits: it is a laboratory of ideas, the extreme luxury. Today it is a nest of trends that are exported to the world. Mademoiselle Chanel used to say that luxury exists when the interior is as beautiful as the exterior. Haute couture is the perfect embodiment given by a unique personality. It entails a lot of patience and at the same time, modernity and timeliness. Today there is a real clientele for these types of pieces, but these must be the highest expression of refinement and beauty.
Karl Lagerfeld: En mi opinión, una colección de alta costura debe ser un ejercicio de fantasia. Las lecciones de moral or elegancia son innecessarias. La alta costura es, ante todo, el colmo del lujo; de lo contrario, bastar con el «prêt-a-porter» de lujo. Si no es realmente excepcional, no tiene razon de ser.
…
Hola: ¿La alta costura es un sueño hecho realidad?
Lagerfeld: Alta costura es sinónimo de tener rienda suelta para utilizar cualquier cosa, desde las telas más caras a los tejidos más complejos: es un laboratorio de ideas, el lujo extremo. En la actualidad, es un nido de tendencias que se exportan al mundo entero. Mademoiselle Chanel solía decir que el lujo existe cuando el interior es tan hermoso como el exterior. La alta costura es la perfección encarna da en una personalidad única. Tiene mucho de paciencia y, al mismo tiempo, de modernidad y de actualidad. Hoy en dia existe una clienta real para este tipo de piezas, pero estas han de ser la máxima expression del refinamiento y de la belleza.
-Desde "Hola!" revista, España, Numero Extraordinario, Otoño-Invierno 2007-2008 (From "Hola!" Magazine, Spain, Special Edition, Fall-Winter 2007-2008), page 60 for the first excerpt, and 58 for the other. Transcribed by ~The Fashioniste~ and translated with the help of Google and Altavista.
Claudia Schiffer
(with soccer great Pele at the 2006 World Cup, holding up the trophy itself, from ViewImages.com - and that dress she has on is the one she refers to in the following excerpt, from an interview with Zeit magazine)
Zeit: Fashion is still important to you?

Claudia Schiffer: When I go to an event, I have to look good. Recently, I always wear more vintage, old designer stuff. Here in London, especially along Portobello Road, there are many vintage shops, where there is a lot of junk, but always, in between, there are genuine pearls, and dresses by Chanel or Valentino. The Chanel dress that I wore at the World Cup opening ceremony, you could describe as vintage – I had bought it 20 years ago. I have kept all the designer things from that time. As recently as ten years ago, I wasn't able to make use of anything that was vintage. At that time it was very important that everyone could immediately spot whether someone was wearing a Prada, or a Versace, or just a whatever. Now we want to achieve a "Wow" effect on someone so that now they ask: "Where did she get that?" This is also due to the fact that Prada, for example, is now available worldwide. But I like also young designers, such as Erdem from London.
…
Zeit: Do you yourself decide everything on your own?
Claudia Schiffer: One of my friends is a stylist. If I'm unsure, I ask her. Or I take a Polaroid of the dress and look to see how it works under a flash. Some clothes look completely different when they're photographed.
Zeit : Mode ist Ihnen immer noch wichtig?
Schiffer : Wenn ich auf eine Veranstaltung gehe, muss ich gut aussehen. In letzter Zeit trage ich immer mehr Vintage, alte Designerware. Hier in London, vor allem in der Portobello Road, sind viele Vintage-Läden, in denen es zwar viel Schrott gibt, aber dazwischen immer wieder echte Perlen, Kleider von Chanel oder Valentino. Das Chanel-Kleid, das ich bei der WM-Eröffnungsfeier anhatte, könnte man auch schon als Vintage bezeichnen – das habe ich mir vor 20 Jahren gekauft. Die Designersachen von damals habe ich alle aufbewahrt. Noch vor 10 Jahren wusste ich mit Vintage nichts anzufangen. Damals war es ganz wichtig, dass jeder sofort erkennen konnte, ob man Versace oder Prada oder was auch immer trug. Jetzt möchte man eher einen Wow-Effekt beim anderen erzielen – die Frage: «Wo hat sie das denn her?» Das hängt auch damit zusammen, dass beispielweise Prada mittlerweile in der ganzen Welt erhältlich ist. Aber ich mag auch junge Designer wie Erdem aus London.
…
Zeit : Entscheiden Sie alles allein?
Schiffer : Ich habe eine Freundin, sie ist Stylistin. Wenn ich unsicher bin, frage ich sie. Oder ich mache ein Polaroid des Kleids und schaue, wie es im Blitzlicht wirkt. Manche Kleider sehen ganz anders aus, wenn man sie fotografiert.
Zeit (Time) Magazine interview - September 14, 2006
In English:
Google Translation



John Galliano

(Photo from the end of the Dior, Fall 2007 Ready-to-Wear show; Style.com)

"I prefer bad taste to the complete absence of taste."


Carine Roitfeld

(in the front row at Gucci, Fall 2005, and at Zac Posen, Spring 2008; Style.com)

Carine Roitfeld est la rédactrice en chef de Vogue Paris (Editor-in-Chief of Vogue Paris) – and this excerpt was already in English, as she speaks it, and here it is:
Her style, she says, is not about rules. "I hate, 'Don't do that, don't wear white shoes with black tights.' I do the contrary and I don't care what people think." She also hates signs of richness: "All those logos… it's horrible. If you think about an attitude of a girl, 'I am a very Saint Laurent girl.' You know, because these girls they look sexy in a boyish way. I don't have a driver. I don't think because you have money you have taste… Education and money - this is quite rare. No?"
Telegraph newspaper (UK) - November 13, 2005



Education and money IS a rare combination...but that doesn't mean it's so rare as to be virtually nonexistent, ya know, and I'M one such example of that! Check it out-- I'm virtually brilliant and virtually wealthy...in uhhh, virtual reality? (DAMMIT!) Welp! C'est La Vie! –which is French for "7IFE T0TA77Y SUXXXX Do0D!!!!!!!" <-idio

ma

tic translation. Thank you and enjoy the apéritifs. My name is Todd and I will be your cyber-sommelier this evening...