The first watch features Charlie the Tuna, indeed the most well-known spokes-fish working today. Now, let me just say right off the bat that I'm not exactly the kind of person you'd ever find standing at the kitchen sink eating tuna fish out of the can with a plastic fork -- you'll much sooner find me sitting in the center table of the 5-star restaurant, enjoying grilled tuna with warm coriander and caper vinaigrette, with either the cabernet franc or the oaked Chardonnay...and that's just the way I like to eat. But what you actually see here is a good evening for anyone of any age--meaning, the watches are placed in that particular order for a reason--see, first you have lunch (okay, a tuna sandwich), then some games, then dinner (Kraft macaroni and cheese, which to the American taste undoubtedly constitutes the utmost in haute cuisine), and lastly dessert! (a sundae sprinkled with crushed M&M's, hell YESSS). And there it is! :-D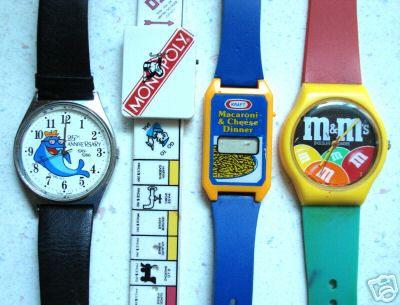 A cool Swatch, showing a variety of nautical flags, and then Tasha Tilberg at Chanel, Spring 2006 Ready-to-Wear.
And more of those fantastically splendid, colorful banners that represent the various nations of the world. Vexillology, or the study of flags, comes from the Latin word vexillum--and vexillography is the design of 'em! :-D
Chanel Spring 2006 RTW footwear; ready for that marathon? Good, good...
And Here... We... GO!!!!!!!!!!!
Days of running in the hot sun...feel the effects on your body, uh-huh... (that only sounded like song lyrics)
A 1991 Neon Yellow Plastic McDonald's Stopwatch, featuring Michael Jordan giving a thumbs up--incidentally one of the two gestures that originated in Rome that was used by an audience at a gladiatorial fight to determine whether or not the losing fighter should be killed or not. And actually the meaning of the thumbs up or down was the opposite from what we now understand it as: "One of the few sources to allude to the use of the 'thumbs up' and 'thumbs down' gestures in the Roman arena comes from Satire III of the Roman poet Juvenal (3.34-37) and seems to indicate that, contrary to modern usage, the thumbs down signified that the losing gladiator was to be spared and that the thumbs up meant he was to be killed." Hey, nice job!
All-American supermodel Bridget Hall, in Ralph Lauren Polo... God Bless... Everything I'm Seein' Right HERE....
Gucci, Fall 2004, and then Kate Moss, making her own use of one of those elements by pairing it with none other than a white Nike sportsbra and matching shorts (ha!) on the cover of none other than Paris Vogue, for the November 2004 issue (and the fact that's actually on the beach makes even more appropriate!--by which I mean utterly and offensively inappropriate). Yes, somehow that green foxfur boa goes just as well with gleaming green sequin as it does with gleaming white lycra! (LOL! Don't ask me how they do it! I'm not an explainer, just an observer--a totally astonished and amazed observer.)
And in keeping with that kind of combination, here we've got that same fabric, paired with some black knitwear and precious pearls, at Chanel Spring 2006 RTW once again...WOW, I think that workout is DEFINITELY paying off, GEEEEZ...!!!!
All right, STOP! DECO TIME.
The workout is done! Now just keep that body for another 8 months or so and you'll be ready for summer! :s
Don't those gears look a bit too much like circular saws?.. ?!?? You betta watch OUUUUT!!!
The unmistakable black and white Adidas stripes, and then Karen Elson at Alessandro Dell'acqua, Fall 2005. Nice!
Yeah, okay all you runners--you can sip your Powerade from that little dish whenever you get thirsty! ;-D
Care Bears! How adorable, aren't they??
(Ya see? I'm makin' this gallery cover a whole range of reactions, cuz I GOT that kind of versatility...)
1994 M&M's watch with the seconds counted by a red M&M's skating around a halfpipe like a pro at the X-games. This watch is one of the best ever made; you have to see it for yourself!
Yeah--that skunk is like "Is that luxury I smell??" (Absolutely: a French antique pocketwatch in *pristine* condition.)
Uh-oh... GET UP!!!! AAAAAAA!!!! Forget any luxury, honey--wake up and smell the damn COFFEE!!!
Or wake up and smell the roses....U KNO. And check out the Dolce & Gabbana, Fall 2007! Belarussian model Tanya Dziahileva in some sort of metallic rose-red bustier. Incredible.
Or smell the LUVVVV... And here we have Brazilian model Caroline Trentini at Dolce & Gabbana, Spring 2005.
And a Vogue magazine editorial, January 15, 1961 and another beautiful Boop timepiece.
Hey wait... Is that her in real life?? That would be Swiss model Patricia Schmid, backstage at John Galliano, Fall 2007...but there is a resemblance, don't you think?
Two very different examples of how the numbers may look...that first one looks cool, but the second one...? Yikes, it looks like one of those awful ticking clocks from either a school classroom or a corporate office. Ughh... get me another coffee...PRONTO.
Cheerful Japanese watch! Is there are an American equivalent to that? I wonder...
Oh! Right!!! And he's even got a woman too! Way to go, man! Chompin' all those ghosts has really paid off! But wait, Ms. Pac-Man does the exact same thing herself...so what good is Mr. Pac-Man then? DAMMIT! >:-O
And look! She can even afford to couch herself in red Valentino's satin! Wow...classssssy!
And now, a Chinese watch...
And Donald Duck, dressed in traditional Chinese garb and holding a teapot, even though he is, um, seated next to a can of Coca-Cola. I guess that's what the Donald on the right is pointing out!!
And check out the anchor here--first on that keyring, but then on middle of that 1970's polyesther dress!
And here, two models, Gemma Ward and Valentina Zelyaeva at Balenciaga, Fall 2006, flanking a model from the D&G, Fall 2006 Menswear show. I...think 'll just let the pictures speaks for themselves.
Labeled as a Chinese "zodiac" watch - I am, guess that means that those the 12 astrological signs? (duh) 2007 is actually the year of the pig! That's not a zodiac sign, but if it was, what sign could it serve as a realistic substitute for? I guess I'll that up to you...but if you say Leo, then I'll definitely know you're kidding. (You are kidding, right?)
Chinese Mickey Mouse! --Hey, what's he so happy about?!?? Oh right--the 100% titanium bracelet...wow, that is pretty impressive. And as for the Chinese alarm clock? MADE IN THE USA. (HUH?!??) :-o Yeah!
And a fine, hard-working 21st century family, indeed. And check the watch--see??? Classy too! <:-D
And a fine family of Russian "nesting dolls," shown here beside Russian model Vlada Roslyakova, wearing a red babushka (large triangular headscarf, from the Russian word for "grandmother"), at Vera Wang, Fall 2007. (Don't let the Big Bad Wolf anywhere NEAR that catwalk!!! You know that wolves are related to dogs, and we ALLLL know how dogs feel about cats, don't we...)
Russian cosmonaut Yuri Gagarin, the first man into space and the first to orbit the earth, in 1961.
And here he is, depicted on a commemorative watch, and then we see British model Jean Shrimpton, from Harper's Bazaar, April 1967, getting into a spacesuit of her own--and certainly boosting the morale of all aspiring astronauts. (It wasn't until 1969 that a man landed on the moon, however, but it is probable that this helped. Now, whether it was kept inside their space-helmets--like World War II soldiers keeping pictures of pinup models inside theirs--is another matter...)
Dolce & Gabbana Menswear, Fall 2007, ready to travel in style! (Evidently his new job is on the moon.)
And he will be joined by some lovely ladies to keep him company... (Russian model Sasha Pivoravova and Brazilian model Caroline Trentini, from D&G, Fall 2006)
She's envisioning her new home... Hey! Not bad!!
Okay dude. You got it...you made it. Now it's time to see just what this new place has to offer....
Damn, that is some discovery!!! Check her OUTTT!!! (Russian model Natasha Poly at Dolce & Gabbana, Fall 2007)
Yeah, he's doin' good so far, but look at this one-- She's gettin' ready to put it down on ya...better be careful, man
(That is the Dutch model Lara Stone, and check out the gold and silver! How awesome is that??)
Well, she got the home she always dreamed of, so who am I to question her methods, eh?
Ya can't argue with success...!!
"Humble abode"? Mmmm, whatever. I think I'll just look over the horizon and chill for a while, thank you.
Now that is really a house you can be proud of. Who ever would've thought that the moon had such fertile soil?
Hup! What's that on the front lawn? Ah, how many of us can become an archaeologist in our own accidental way...and yet this represents a piece of history that no one can overlook...
And making a connection once again: that would be Latvian model Inguna Butane at Dolce & Gabbana, Spring 2006, and Jean Shrimpton, the female astronaut from above, and a sparkling jewel in the crown of British history...
"Be patriotic!!" Depending on your country, I suppose... Wear your nationalism on your wrist, as suits your inclination.
Wait a minute, that's just a logo?!?? What on earth is this?? I didn't know the manufacturer of those giant white high-tops from the '80s wasalso the vexillographer of the British Isles... Well, I guess ya learn something new every day, old chap!
And the Spice Girls? Cool Britannia (or is it cool Britannica? I think pretty much everyone uses Wikipedia now).
Korean pocketwatch, isn't that just so lovely?
Models posing at the Christian Dior, Spring 2007 Haute Couture presentation, and a different model of that same watch. Don't those white flowers go so well together? The Japanese refer to the art of flower arrangement as "ikebana," not be confused with ichiban, cinnabon, or digimon (which are, in order, a Japanese restaurant, a danish parlor, and a Japanese cartoon.) Okay apparently this has just unravelled into free word-associations and all sense is gone... Well, so passes the passage of time through the blessed sinus of eternity....
Two beautifully detailed antique French pocketwatches, both from the early 1700s--or at least in that style! ;-\ Absolutely exquisite. The lady on the left lounges by the river bank, while the young fellow on the right serenades her into some other state of being... How poetic, how serene...
The ballerina by Degas also enjoys that sweet melody, but what kind of watch does she wear? Let's have a looksy--
Ha! Practice makes the pirouettes perfect!
(Not a bumper sticker you're likely to find on a monster truck, ok)
Another fine Art Deco wristwatch by the Waltham company. That's the look, take it or leave it, babe.
And here's a slightly different rectangular watch, featuring Scooby Doo, Huckleberry Hound, Yogi Bear, and Fred Flintstone, just a few of the 200 or so faces of Hanna-Barbera. Guaranteed to help you clinch any job interview.
This Deco wristwatch is from Elgin--another big maker from that time--and it, too, defines the aesthetic of that period (the early 1920s to the late '30s), as it was in art, architecture, and furniture. I have to say that you don't see those kinds of numbers anywhere these days!!
A Versace gold watch, and two Versace vamps, from the Fall 2005. Hey, if it matches, it matches!
A gold and diamond ladies' watch by Geneve. Just riffing off that previous one--
Cartier in the middle, Rolex to the side, okay NOW we're talkin'...
Two more fine Rolex models; just my taste--and the light they reflect happens to hit the M&M's in just the right way--certainly better than the actual M&M's watch does, anyway....
Looks fantastic! The gold and silver, nicely done. So yeah--that chick from the moon with big mansion?
Totally set the theme for this. It's allll her.
Okay, this is simply a dream---- Info? Sure: It's a Rolex Men's Datejust Watch, with Stainless Steel and 18K Oyster Band; a Tahitian Mother-of-Pearl Dial and Yellow Gold Roman Markers, encased in Perfect Acrylic Crystal. Model: Classic #16013. I'm gonna see if I can do that whole "layaway" thing with this... It's market value is $29,000. Or, I could buy a brand-new four-door sedan. Hmm. Considering I'm not wearing a watch right now, nor I do I have a car here in City, I guess I'm really gonna have to make this decision--it's just a matter of circumstance! And I happen to be a very sensible individual. I here present you with several different angles for you to enjoy it from:
And now for Cartier - And let it be pointed out that those slanted roman numerals are a trademark they are quite proud to call their own.
See the fourth watch in this group? It has the word "SUCCESS" on it--that means the person wearing it is successful!!! Or you just wear that other one over there-->
Okay, let's not be ridiculous. (Getting to play Super Mario is WAY more fun than just see what time it is, y'know?)
Delicious!!!! Once again!!!
Watch designed by '80s pop artist Keith Haring -- That's life! Work, entertainment, money, stress, grrr!!!
Time is money and money is time, 'cuz money buys you time to make more money--and it never ends!
It's a vicious cycle...terribly, terribly vicious... I do like the orange background though. Isn't that neat?
A Geneva (not Geneve) made in the Cartier style. Yo, who the hell are YOU foolin'? Huh?
Anyone who's more than 3 feet away? Oh.
The highest in formality and the highest informality. Coca-Cola gettin' fancy, and DSquared Menswear, Fall 2006.
See that? The most original dude wins. The others are just too literal--though they still look very dapper. And about that dress... Watch the hell OUT, honey!!!! One gust of wind and you know what happens next... (yeah--the dress ends up selling out within 5 seconds of arriving in the store!!!)
Some of those were from the Menswear show, but these are obviously from the Ready-to-Wear (that is, Womenswear) show. That's Dutch model Doutzen Kroes on the left, and Brazilian model Isabeli Fontana on the right. Either woman has the power to silence even the rowdiest saloon--to break up even the craziest bar-brawl you can imagine--just by walking in.
Okay, now here we go-- First, to the right--I had no idea that Sylvester and Daffy hung out like that! But as for Tweety? Oh god, don't even ask...she made a little of her own money and is now "too good" to slum around with those guys. Then again, what would you expect from a canary that wears fake eyelashes? >:-O
Oh my god, do not tempt me... (Forcing someone to wear that watch is pretty nasty way to torment them, you know.)
Zzzzzzing! That's a Swatch watch for ya ...with their slogan printed right on the front!
An Andy Warhol-inspired watch--and is the tribute ever effectively ironic? Is it ever un-ironic? Huh?! This is a question I can only leave to the critics and the re-definers of "art" itself (and basically whoever has the most money wins the contest as to what is and isn't art...dammit, I knew I shouldn't have continued!). The magazine is from May 1969, and well, I guess that was the year that Pop Art was...done for? Right.
Tasty! A Kraft Jelly watch, a Kraft Parmesan Cheese watch, a Cheese & Macaroni Club watch (OoOooo, ExCLuSiVe!) and once again, the timeless one I have already featured twice...
And those 4 would be perfect for these 4 American Smurfs -- Let's EEEEEEAT ALREADY!!!!!
A friend of mine said he wanted a Rolex, but I figured these watches are more appropriate to his tastes and lifestyle. And I'll have you know that both work till midnight OR LATER! X-D YES!
WOW, a totally awesomely designed Cartier...isn't that soooo cool?!???
Okay, what's this one...? Ya gotta gimme a closer look at that one---
WHUUUUTTTTT........... OH THAT IS SOOOO WRONG....
Undoubtedly one of the most shameless instances of "McDonaldization" ever manufactured.
But hey, what are ya gonna do... I'LL tell you what--you're gonna set it aside, and enjoy that extra-value meal
while it's still **haute**!!!
Starbucks Taiwan! Yyyyup! Now can we talk about "Starbucksification"? lol.
That's a good match! Italian model Mariacarla Boscono at Chanel, Spring 2006 RTW.
Indeed.
(As a sidenote, I've been mainlining double-shot espresso the entire time I've been writing these captions.)
The Google PDA wristwatch, a marketing experiment attempted by the company in 2004 (and the one watch I'm showing that is not from eBay). I don't quite know how it can be used, though--what with there being no KEYBOARD or anything.. But wait, do you think it'ill be re-released, with voice-transcription technology built into it?? Can you imagine that? Tons of people walking around, talking into their wristwatches, which would transcribe their words into text-messages for them tosend to their friends and loved ones? How far removed can we get from actual interaction?!?? Alexander Graham Bell would be utterly bewildered, I think...
"Time (Clock of the Heart)"
Sources:
eBay.com
Style.com
Elle.com
Worth1000.com

References:
Rolex article on Wikipedia
Rolex Official Site
Cartier article on Wikipedia
Cartier Official Site
eBay's Luxury Watches
eBay's ULTRA-Luxury Watches

More Links Related to the Concept Behind This Update:
Cocacolonization -
Carbonate THIS!
McDonaldization -
So how do you make a living...?
McWords -
Some of these are pretty damn funny!! And you've just gotta love how the editors of the article have included all the McDonald's-related links at the bottom of the list, lol. I'm lovin' it! And there is even a comprehensive article written about each of their promotional characters! lol. *Pure* Wikipedia... Any Internet junkie worth his weight in pixels will bookmark that page and be spending at least two hours checking out every last one of those tasty, honey-barbecue links. But really, who could ever learn this much, this quickly?? Ha. I'm luuuuvin' it !
Annnnyway, next article:
Disneyfication
"Hyperreality"? - It ain't as cool as it sounds...or maybe it is??
"The Effects of Globalization" -
A list within the well-cited article about that particular subject
The "Consequences" of Westernization -
Just a note about worldwide linguistic changes
A Mini Gallery from the entry on "Americanization" -
See the last photo, for what would be transliterated as "Pitstsa Khat Express"
French philosopher Jean Baudrillard -
He starts with some interesting premises, and then pushes 'em right to their extreme.

Longitude by Dava Sobel (1996) -
The BEST BOOK Written About the Origins of the Modern Watch!!!
Teaser: "While sailors can readily gauge latitude by the height of the sun or guiding stars above the horizon, the measurement of longitude bedeviled navigators for centuries, resulting in untold shipwrecks. Galileo, Isaac Newton and Edmund Halley entreated the moon and stars for help, but their astronomical methods failed. In 1714, England's Parliament offered £20,000 (equivalent to millions of dollars today) to anyone who could solve the problem. Self-educated English clockmaker John Harrison (1693-1776) found the answer by inventing a chronometer--a friction-free timepiece, impervious to pitch and roll, temperature and humidity--that would carry the true time from the home port to any destination. ..."
And Here's the Illustrated Version
A Note on the title: I was going to use a French phrase and call this "Haute Horlogerie," but quickly realized the huge percentage of people who would pronounced it as "Hot Horology," and, needless to say, I immediately decided to go with the cleaner-sounding "Gallery of Watches!"
And I hope you have enjoyed it ! :-) :-) :-)